For research and educational use only.
Description
DNA Ladders, also known molecular-weight size markers, contain a set of predetermined DNA fragment sizes. These markers are a set of standards used to identify the approximate size of a DNA fragment run on gel electrophoresis.
The 100 bp DNA Ladder is ideal for routine use during the electrophoresis of PCR-amplified DNA. It is supplied pre-mixed with loading dye: this allows easy pipetting into electrophoresis gel wells, and acts as a visual aid to track the extent of DNA migration during gel electrophoresis. Its formulation also allows room temperature usage and short-term storage.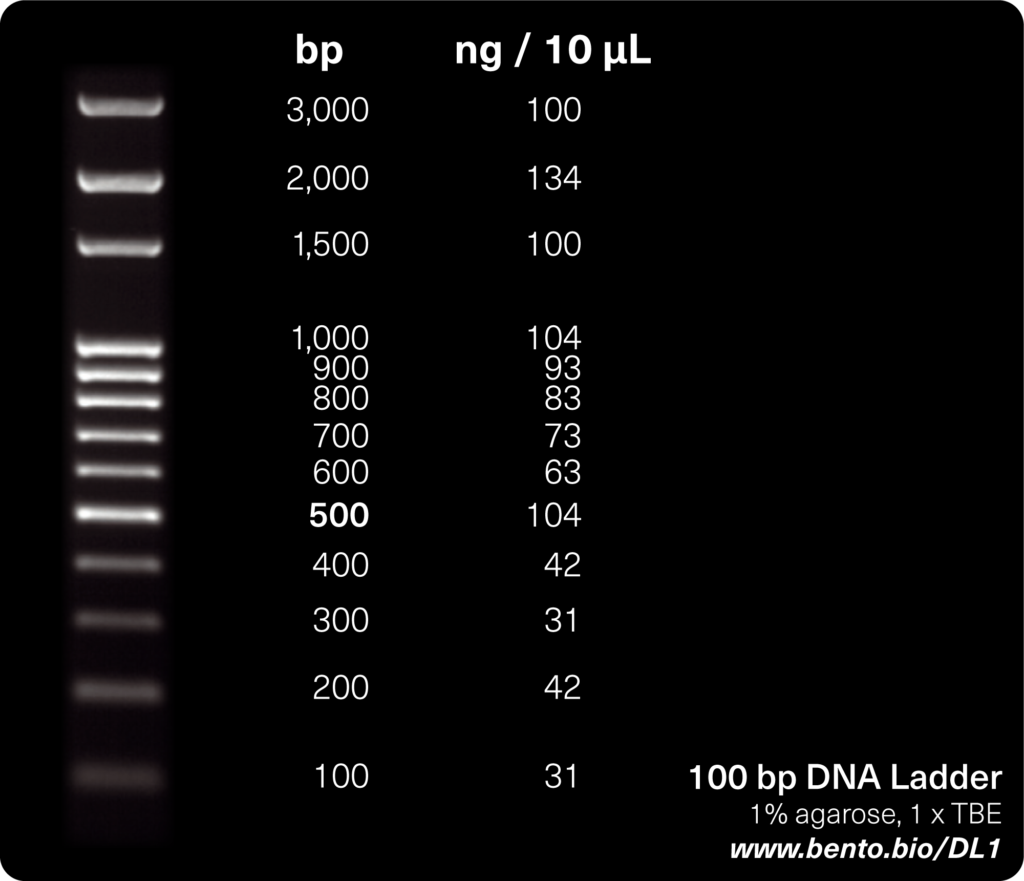 Application Recommendations
Gel electrophoresis
We recommend using 100 bp DNA Ladder to size DNA fragments of 100 – 3000 bp in length, such as DNA amplicons produced by many PCR applications.
Reagent Composition
100 bp Ladder (13 DNA fragments at 0.1 µg/µL (size range: 100 – 3000bp), 10 mM EDTA, 10% glycerol, 0.015% bromophenol blue, 0.17% SDS).
Storage & Stability
Store dry and at room temperature.
Long-term storage at –20ºC.
Shipping conditions
Shipped at room temperature.
Safety warnings and precautions
This product and its components are not considered hazardous in their given concentrations. However, as with all scientific reagents this product should be handled and stored with care as standard practice. Wear gloves. Care should be taken to avoid contact with skin or eyes. In case of contact with skin or eyes, wash immediately with water.
Quick Start Protocol
Using a new pipette tip each time, transfer 5 µL of 100 bp DNA Ladder in the electrophoresis gel well to the left of that assigned for the first sample, and the well to the right of the last sample. For example, the first and last wells if all wells are being used. No additional loading dye is needed because it is already included in the DNA ladder solution.
Load DNA samples as normal.
Run gel electrophoresis according to the appropriate protocol.