DNA analysis
for anyone, anywhere
Our mission is to make DNA lab work accessible to anyone.
We create powerful yet easy-to-use devices, affordable supplies, and knowledge guides, to enable beginners and professionals to use the power of PCR anywhere.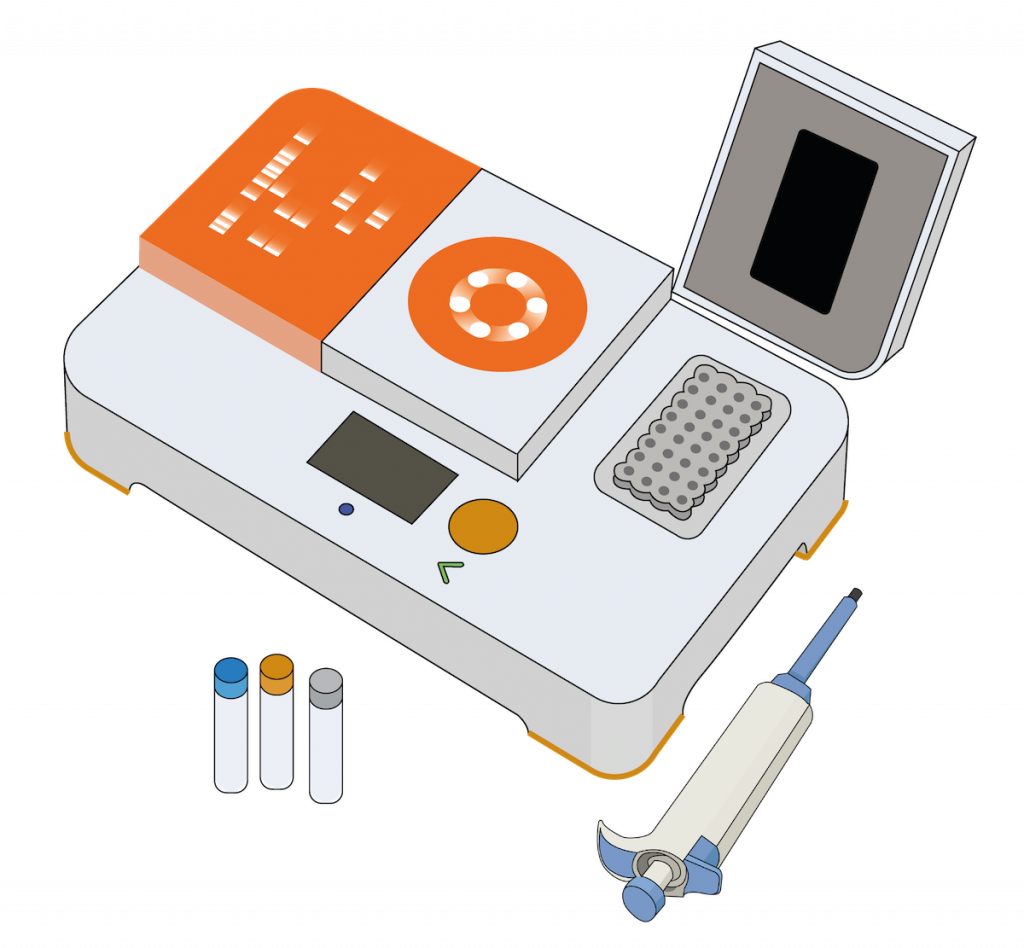 Why make DNA Analysis accessible?
Biology is the key technology of the 21st century.
But laboratories are places that need access cards to get into, full of expensive equipment that need advanced degrees to operate.
This lack of democratisation of biotechnology has consequences. Genetic literacy is low and mistrust in science is high.
We believe that by empowering everyone to do fundamental DNA lab work, we can make a difference. Together, we can unlock the potential of biology, by making essential techniques like PCR universal.
This might be to discover new fungal species in the UK, to track parasitic infections in Great Apes in Indonesia or to detect disease in honeybees in Southern Spain.
And that's only scratching the surface.
Why are we different?
Current biotechnology tools are not accessible to most people.
Equipment is too expensive, and is often designed only for experts, not for those at the beginning of their learning journey.
Supplies are difficult to get, and can only be bought in large volumes and shipped to official lab addresses.
Guides and workflows are full of jargon and difficult to follow, especially without many years of professional lab experience.
Bento is working on changing all of these things.
Our equipment is built to be compact, affordable, and delightful to use.
Our supplies come in volumes appropriate for a single user, not a whole university department. We deliver them anywhere, including your home lab.
And we work hard to make our workflow guides jargon-free and easy to follow, with videos and step-by-step instructions.
Biotechnology is the key technology of this century, and we believe that it must be accessible to everyone.
How Bento started
Our founders Philipp and Bethan met during the iGEM biotech competition.
Philipp learned programming from a young age and was surprised by how much more difficult it was to get hands-on experience in molecular biology. It was a frustration that Bethan understood. She was studying biochemistry, and every minute in a real laboratory was precious. Soon, the idea for Bento Lab was born.
After sending the first hand-built Bento Lab devices around the world for beta testing, we launched a successful Kickstarter campaign to finish product development and setup manufacturing.
Thanks to our amazing community, we were able to grow Bento into a small biotech company without investors. We remain an independent, mission-driven company.
In addition to our fantastic Kickstarter backers, we have benefited from the generosity of many organisations.
These include UCL Advances, the Royal Academy of Engineering, Imperial College London SynBICITE and the UCL Institute of Making.
Get Involved
If you like what we're doing and would like to get involved, we would love to hear from you.
Whether you are a professional scientist, a teacher or student, an artist or a citizen scientist, we believe that all of us can contribute to the democratisation of biotech.