Settings screen
The settings screen can be opened by holding down the blue home button for 2 seconds.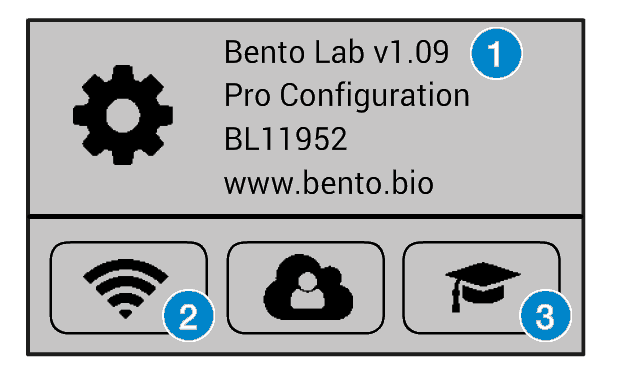 On this screen, you can find the serial number and configuration details of the lab (1), configure Wifi connectivity (2), and restart the user tutorial (3).
Ignore the middle icon between (2) and (3) — this module (Bento MyLab) is still in development.
Installing Software Updates
In order to find and install software updates, Bento Lab must be connected to a Wifi network with internet connectivity. If you are not already connected to Wifi, connect the lab to Wifi first, then restart Bento Lab.
If a software update is available, a popup will appear within the first minute of powering Bento Lab.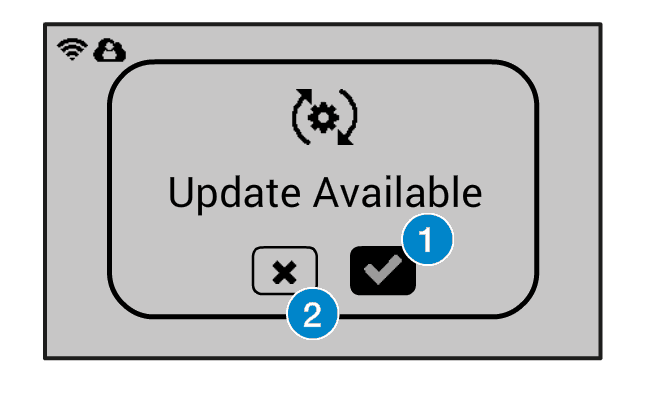 To install, select the confirm button (1) and follow the instructions. To install the update at a later time, select the cancel icon instead (2). The software can then be installed via the settings page later.
Connecting to Wifi
Wifi is disabled by default. To turn on Wifi, open the settings page by holding the blue home button for 2 seconds.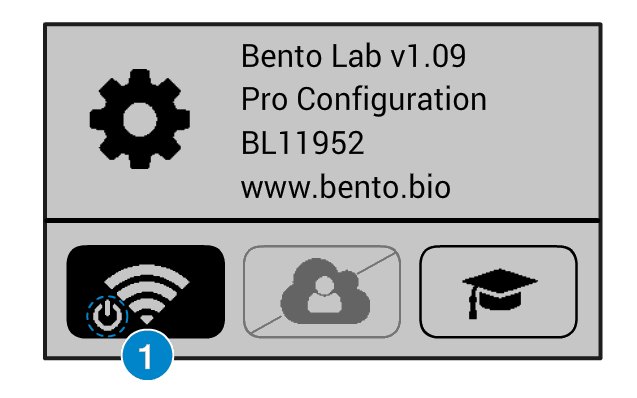 The power icon on the Wifi button (1) indicates that Wifi is currently turned off. Select the Wifi button and confirm to turn on Wifi.
It takes a few seconds for Wifi to activate and scan for available hotspots.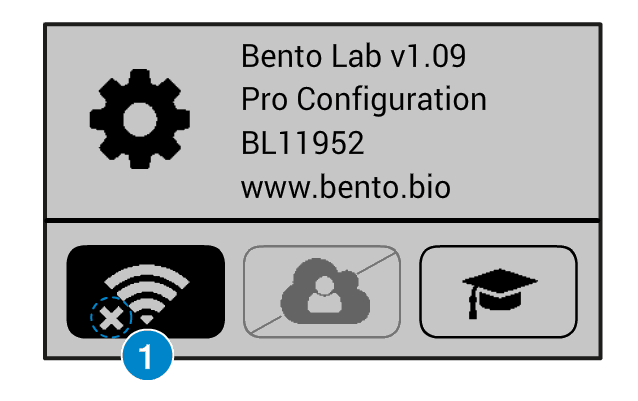 The icon on the Wifi button changes to indicate that Wifi is turned on, but no Wifi is connected (1).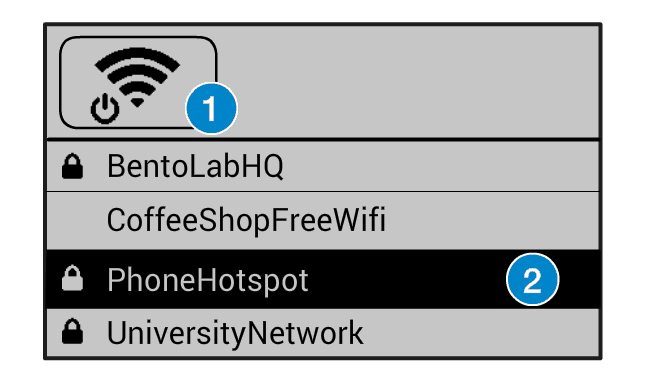 Click the Wifi button to see a list of available networks. Scroll to the network and click to enter authentication details (2). If you want to turn off Wifi, use the button at the top of the list (1).
Enter the Wifi key and click confirm. The password field shows the last character you entered, with previous characters masked. To delete the last character or go back, use the green back button.
Issues with older firmware
If you are running an early release of the firmware, there can be issues with Wifi and software updates on certain networks. If Wifi does not connect right away, restart the device – the Wifi might connect automatically after a restart.
If the software update does not work automatically, please contact us for assistance.